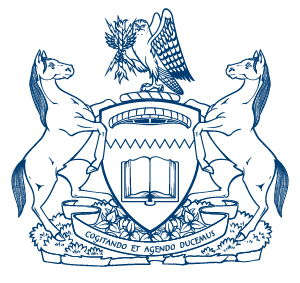 The Coat of Arms emblem offers a graphical representation of the important facets of the university, as well as our history, values and achievements. At the same time, it highlights our ties to the regional, national and worldwide communities.
The Coat of Arms proudly displays our motto 'Cogitando et agendo ducemus', which means 'by thinking and doing, we shall lead'. Use of the Coat of Arms is primarily limited to formal and ceremonial purposes, and the offices of the President and Provost.
Contact us if you would like to use the Coat of Arms. Don't forget to include a description or example of how and where the emblem would be used.